19 November 2021 Adult Safeguarding Day: Political will needed to protect most vulnerable
Updated / Friday, 19 Nov 2021 06:28 - Ailbhe Conneely
Today is the first safeguarding awareness day to prevent adult abuse in this country.
While notable, many would argue that Adult Safeguarding Day has come too late.
When the first set of Covid-19 restrictions were introduced last year, domestic violence services and child safeguarding services swept into action through public information campaigns.
The public and frontline community workers were asked to be vigilant. To observe and report concerns - ensuring that children and those suffering from domestic abuse could seek help.
There was no equivalent campaign for vulnerable adults.
Safeguarding means putting measures in place to uphold rights by supporting health and well-being and reducing the risk of harm.
It involves families, services and professionals working together to prevent adult abuse, neglect, or coercive control, according to Safeguarding Ireland.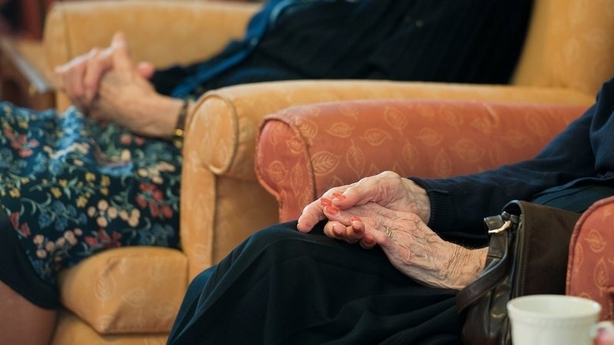 A recent report by the HSE's National Safeguarding Office showed a fall in the number of adult safeguarding concerns last year.
This was during a period of the pandemic when many adults at risk of harm were cocooned. There is concern that they experienced higher rates of abuse behind closed doors.
Social workers were among those who were permitted to enter settings such as nursing homes during lockdowns.
Primary care and palliative care social workers provided emotional, social and end-of-life support to residents and their families during the pandemic in some nursing homes.
They were the eyes and ears of many families during the pandemic.
Repeatedly they expressed concern about the well-being of residents in nursing homes who were restricted from seeing loved ones.
Parallel to that, safeguarding social workers continued to investigate harrowing cases involving the rape, sexual assault, physical abuse, financial abuse, and neglect of residents in homes.
Lessons were not learned from Leas Cross in 2005 or Áras Attracta in 2014, according to the Irish Association of Social Workers.
It points out the lack of urgency among politicians for legislation around safeguarding.
Worryingly, the IASW says that without adult safeguarding legislation, their teams cannot protect and support older or vulnerable adults in nursing homes.
Assistant Professor of Social Work in UCD Dr Sarah Donnelly said there is ample evidence that adults who are vulnerable to harm in Ireland require the same level of legislative protection that is afforded to children.
"Until legislation is progressed, we will continue to fail to protect and uphold the human rights of adults who are vulnerable to harm."
The call for legislation was recently echoed by HIQA (the Health Information and Quality Authority) in an inspection report on Disability Services. Safeguarding Ireland, which has organised today's public campaign, has also called for action from politicians.
It is astounding that Adult Safeguarding Legislation has not been prioritised since Leas Cross almost 20 years ago.
The wheels are turning, but slowly.
The Law Reform Commission is currently working on a final report on a Regulatory Framework for Adult Safeguarding, while the Department of Health says it will begin a public consultation on the matter in the coming months.
The department has said that a draft policy will be submitted to the Government for its approval in the first half of next year, after which time legislation will be prepared.
As one source frustratingly put it: "The Oireachtas spends days debating Katherine Zappone's potential appointment as UN Special Envoy, while we await legislation which is about protecting people."
Another body that has called for safeguarding legislation is the HSE's National Safeguarding Office.
This is the office that has yet to publish the 'Brandon' Report by the National Independent Review Panel (NIRP) which was commissioned to examine 108 "occurrences of sexually inappropriate behaviours" by one resident, towards 18 other residents at HSE-run community services for people with intellectual disabilities in Co Donegal.
Despite calls - including from Minister for Disabilities Anne Rabbitte - for the HSE to publish the report, it has yet to do so.
Another case which came back into the public domain in recent weeks is the 'Grace' abuse case, which was described in the Dáil by one TD as "the greatest scandal of our time".
'Grace' - an intellectually disabled woman who was placed in a foster home in the southeast of the country - faced 20 years of abuse and neglect.
Two interim reports, published in late September, found "systemic failings" by officials in the handling of the case.
In a powerful Dáil contribution, Fianna Fáil TD John McGuinness outlined, in graphic detail, instances where he believed people should have "spoken up for her".
Deputy McGuinness was hugely critical of the gardaí, the Health Service Executive and Department of Health.
He said there was already enough information in the public domain to prove that 'Grace' had been failed by the State.
The worry is how many others have been failed.
Research commissioned by Safeguarding Ireland last year found that 12% of all adults had experienced adult abuse in the previous six months, and that one third reported ever experiencing abuse.
It must be borne in mind; this is the abuse that has been disclosed.
Much of it goes unreported.
Today is an important day to highlight the importance of safeguarding.
However, political will is required to ensure that society's most vulnerable are kept safe through legislation and policy.
Original article can be found here: https://www.rte.ie/news/analysis-and-comment/2021/1119/1261819-adult-safeguarding-day/